Welcome to Carbon County Friends of Animals!
Our Pet of the Month is Buster
Buster is a new senior resident at our shelter.  He is 10 years young and is fast becoming a shelter favorite.  Prior to coming to CCFOA, Buster was living under someone's porch for three months.  We are hoping to find Buster a home in which to live out the rest of his days.  He has had a difficult life….please help us help him enjoy what is left of it. 
Please visit us at the shelter and introduce yourself to Buster.  He would love to meet you and you are sure to fall in love with him.
Buster is a domestic long hair that is up-to-date on vaccinations, DECLAWED and has been neutered.
Click HERE to see all of our pets!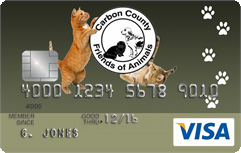 Rewarding for
you and us
CCFOA